Faces of Austin Seminary
Life experiences forge path to ministry
"We don't rise to the occasion; we fall back on our training." This was one of the many lessons that Reverend Treighton (Trey) Haddon (MDiv'17) remembers from serving with the United States Marine Corps. It's also why Trey is grateful for his education at Austin Seminary. "Austin Seminary gave me the theological training I needed to be an effective pastor." Today, he is the pastor and head of staff at Second Presbyterian (Second Pres) Church in Bloomington, Illinois. He leads a team of fifteen, and as one of the largest churches in Bloomington, Second Pres has proven to be a catalyst for community building in the area.
During the COVID-19 shutdown, Second Pres made local and statewide headlines as one of the first churches to launch a drive-in church service. People gathered, in their vehicles, on the State Farm headquarters parking lot and listened to Trey preaching from the back of his truck. The average attendance was over 135 vehicles each Sunday, with people from various churches in the area seeking community in worship, even if only through their car windows.
The church has also become a catalyst for ecumenical collaboration. Trey spearheaded partnerships with local churches of various denominations to hold joint services and community outreach programs. Working in partnership with local authorities, Second Pres holds a community-wide Easter egg hunt in the middle of downtown Bloomington that welcomes over a thousand residents each year. Still, in only his sixth year as an ordained pastor, Trey knows he is just getting started and is excited about the future. "I find great joy in being a part of the movement of God in the church today. I think we're in a time where people are much more authentic. They're looking for depth, not the church of plug and play doing the same old programs and things—churches that are doing that are dying. Only God knows what the church will look like two, five, or ten years down the road. And being a pastor in this time, if that doesn't excite you, you'll probably not last long."
Becoming a pastor was not the trajectory Trey had in mind early on. After six years with the Marines, Trey earned a degree in early childhood education. He planned to become an elementary school teacher while volunteering at a local church. He spent some time in the classroom, volunteered at summer camps, and ultimately worked as a youth director for a local Presbyterian church before realizing his call to ministry.
As a Georgia native, Trey's original plan was to attend seminary closer to home, but according to him, God had other plans. "I was at Presbyterian Youth Triennium and wandered into the room where the seminaries had tables. A recruiter told me about Austin Seminary and put me on their mailing list. From that day, it felt like I was receiving something from them every time I turned around."
For Trey, this persistence was appreciated. "It was like they were building a relationship with me because they were in constant contact." After starting multiple applications to different seminaries, what finally sealed the deal was a visit during Discovery Weekend. "I was on the phone with someone from the seminary," said Trey, "and before I knew it, they had arranged for me to come to Austin, picked me up at the airport, put me up in a room, and after I left, I knew where I wanted to be."
Austin Seminary was a formative time for Trey. There, he gained a deeper appreciation for how his experiences in life intersected with his faith and Reformed theology. "One of my favorite classes was with Professor Cindy Rigby, her Moltmann and Gutierrez class. I especially remember reading The Crucified God and this quote from Moltmann: "To know God means to endure God." This idea of enduring God related to things I endured in life, in the church, and especially in the military. My time on active duty gave me a brush with humanity at its greatest and its worst. So this helped me walk through my own sense of God and gain a deeper understanding of God in my life."
Trey believes his unique blend of real-world experiences and theological insight is one of his greatest strengths: "I find myself to be a bridge builder between the community and the church. I think my experiences as a teacher, a Marine, and even time working in construction at an early age have given me the ability to be in spaces with different types of people and know how to relate to them."
Trey is thankful for the Austin Seminary experience—from the classroom to relationships, especially financial support. "If it hadn't been for Austin Seminary, their scholarship program, and grants, I would not be a pastor today." As a word of encouragement for new seminary students, Trey advises, "Apply for every grant you can find! Be open to hearing different theological ideas. This will help you have good conversations with each other and learn to appreciate other people's viewpoints and theologies. At the end of the day, you're all there learning together."
Alumna shares experience and expertise on grief
Fran Tilton Shelton (MDiv'93, DMin'07) wrote her first book, No Winter Lasts Forever, following the death of her husband, Bob, longtime (1971-2002) Austin Seminary professor, dean, and president. As a Presbyterian minister, her path to this memoir was both personal and professional. She says, "While serving as associate pastor for pastoral care at a large congregation, facilitating grief workshops, and officiating at numerous memorial services, I decided to enroll in classes toward my Doctor of Ministry degree. Dr. Allan Cole, former professor in pastoral care, was my primary teacher. He was both challenging and affirming while guiding me in learning more about the nature and dynamics of grief. After completing my DMin in 2007, a ministry colleague and I designed a monthly model of care for persons in the bereavement process. When other congregations and hospitals inquired about this model, the two of us and another friend co-founded Faith & Grief Ministries (F&GM) in 2011 which provides a variety of opportunities to offer comfort and hope to persons who have experienced the death of a loved one. In 2012, I resigned from serving in a congregation so that I could volunteer my energy, imagination, intelligence, and love to F&GM in order to serve in a larger arena that spans across denominations and faiths."
In 2021, an acquisitions editor at Broadleaf Books invited Fran to consider writing another book on the grieving process. Fran says, "It didn't take me long to respond, 'Yes.' I knew that I wanted to include spiritual practices because over the years of facilitating grief workshops, I saw, heard, and could feel the comforting benefit that came to participants through such practices." That book, The Spirituality of Grief: Ten Practices for Those Who Remain, was published this April. As for meeting deadlines imposed by others, she reflected, "I quickly learned that writing is more about discipline than motivation. I also learned, though being a Presbyterian familiar with committee structures I shouldn't have been surprised, that it is a lengthy process. My final draft was due February 14, 2022; additional edits completed July 2022; and the book was released April 18, 2023. I've thought more than once, 'That is a long time to wait for a baby!'"
To learn more about Fran and her books, including upcoming book signings (one is in Austin on June 3), visit https://www.frantiltonshelton.com.
Presbyterian Church inspires action in the public arena
James Talarico's first step on the journey from a nine-year-old protesting in favor of hate-crimes legislation in front of the Governor's Mansion to being named one of the ten best Legislators in Texas began in a Presbyterian church.
"St. Andrews in north Austin (Rev. Dr. Jim Rigby MDiv/DMin'79, pastor)—it's still the church I go to—really shaped my worldview," he says. "My church always taught me that the love of Jesus Christ is both universal and radical. That's how I got into politics … If we really love our neighbors as ourselves, that requires us to enter the political arena, because that's where justice is won."
The activism he learned as a child continued as a UT student interested in college affordability and education for all. That led to becoming a public-school teacher in one of the poorest zip codes in the state of Texas, which led him to run a nonprofit and ultimately to a successful run for the Texas Legislature at the age of twenty-eight.
After two terms as the youngest member in the Texas House, Talarico was named one of the Ten Best Legislators by Texas Monthly magazine in 2021 noting his intelligence, collegiality, and street smarts: "Like any good millennial, Talarico is a savvy user of Twitter. In April, following a Type 1 diabetes diagnosis, he authored a thread about paying $684 for his first thirty-day supply of insulin and received more than 60,000 retweets. Over the next few weeks, he was instrumental in passing a bill limiting insulin co-pays to $25 a month."
Other achievements have been legislation to allow incarcerated minors to earn a high school diploma, cap pre-K class sizes, and improve early childhood, a bill Texas Monthly described as "twenty years in the making." His plans for the current Session are even more ambitious. He has introduced or co-signed onto several initiatives, including:
A $15k teacher pay raise
Closing remaining child prisons in Texas
Allowing Texans to buy their prescription drugs cheaper in Canada
Stopping surprise ambulance billing
Providing tax relief to childcare centers
James started seminary because of Jesus's two commandments, Love God with all your heart and soul and mind and strength and Love your neighbor as yourself. He says, "Those were given as two equal commandments because you need both. I had been politically active since high school, but I felt I needed to explore that first commandment, and I thought there was no better place to do that than Austin Seminary."
This semester he is taking "Intro to New Testament" with Dr. Rod Caruthers, and Hebrew exegesis of Genesis with Dr. Suzie Park. The early morning and late afternoon classes bookend his 9-5 gig at the State Capitol. That schedule "feels balanced," he says. "When I'm here at the Capitol I'm really focused on "Love Neighbor" through public policy, How do I help my fellow Texans, whether they're school children, prison inmates, they're sick and need health insurance. It's about serving others. But I was missing that first commandment of "Loving God." That's what sustains you to do the work of loving your neighbor—which can be exhausting work. Austin Seminary has been providing me the nourishment and energy to do the difficult work at the Capitol."
As for the future, James says, "I want to continue both tracks … the political and the spiritual work. I would love to run for higher office at the state level but would also like to lead a church someday. That's always been a dream of mine and it's still a dream of mine.
"It's kind of tempting to find literal sanctuary within the walls of our churches and hide ourselves from the world. It's also tempting to only do political work and never think about the spiritual side and cultivate an inner life. I've seen people fall into these two extremes. But I think it's important to hold them in balance. It can be any type of spiritual practice; what's important it to keep your inner and outer life in harmony. And that's what I'm trying to do.
"People at Austin Seminary have been so welcoming and supportive of me. The Texas Capital can be a very difficult place to work. There's a lot of infighting and backstabbing and scheming, and it's so nice to have a safe, welcoming, loving place to go."
Alumni couple creates space for the Spirit among the unchurched
Austin Seminary graduates David and Marta Ukropina co-pastor a "typical" Presbyterian church in Eugene, Oregon. On May 16, 2021, something happened that was anything but typical: close to a dozen youth were confirmed, more than a dozen children were baptized, and several families moved from visitor status and became members. The story Marta wrote about the transformation for the Presbyterian Mission. Read the full story here.
Christianity Today: Why One Texas Pastor Believes Racial Justice Should Start with Stories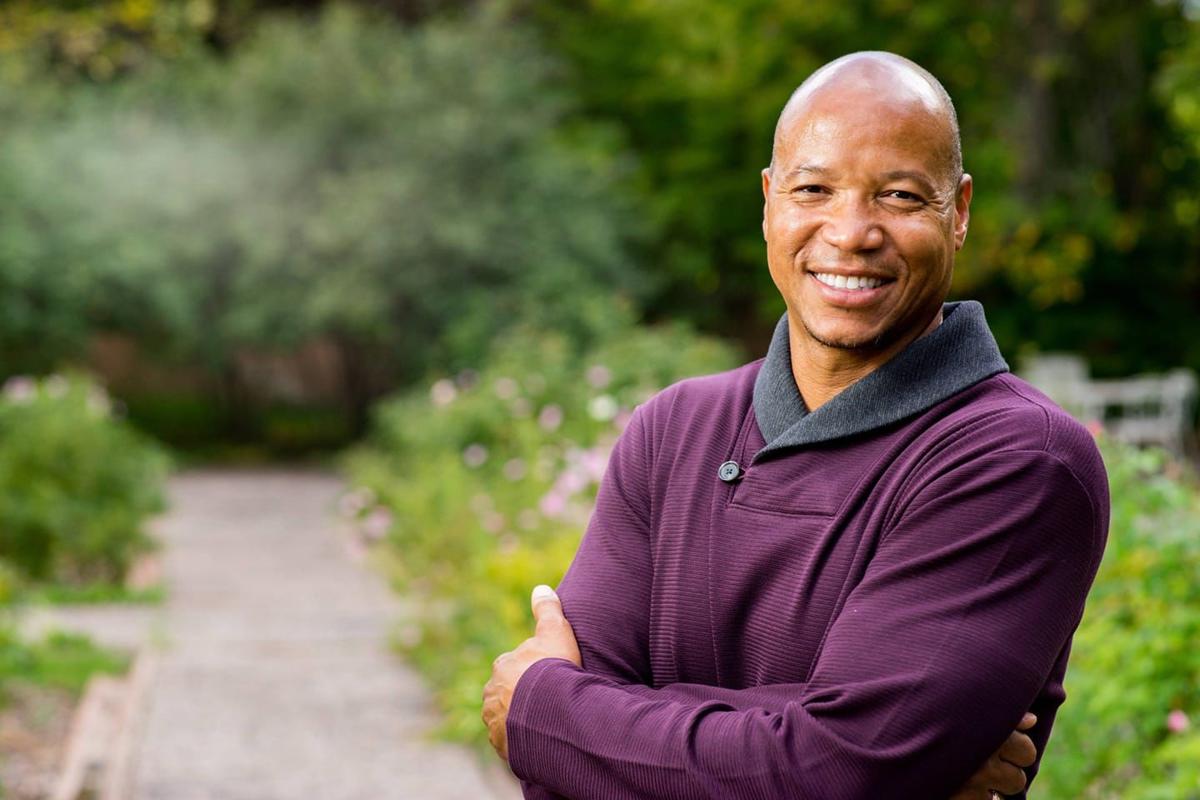 Candid accounts of the daily grind of oppression are a first step toward national healing.
Sarah Holcomb |
Steve Miller has spent his life listening. The black Baptist pastor will approach anyone with a broad smile, and he draws out stories wherever he goes—whether he's standing in the checkout line or sitting in a movie theater. He'll gladly pray for you, as any pastor would, but he also has another mission: He's collecting testimonies of racism.
In Bastrop, Texas, the small Hill Country town where Miller's storytelling work began, people remember him as friendly and fearless. When Latrice Kellough first met Miller, the charismatic community leader reminded her of Barack Obama, if Obama wore jeans and a Kangol hat. She was immediately at ease, for reasons she couldn't put her finger on. She listened as Miller prayed for her, and then he listened as she described the racial discrimination she experienced while working at a nursing home.
Read full story here.